Welcome to the website of your local Residents' Association. The Association is open to all those who live in Cleaver Square, Cleaver Street and Bowden Street, London SE11.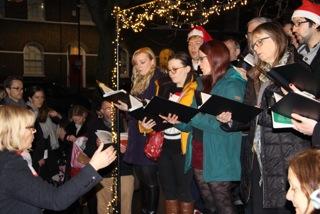 News and events
Many thanks to all those who came along to (and helped at) our charity carols in the square evening on 20 December 2017. As a result of your generosity we raised nearly £1000 in an hour, over half of which has been distributed to local families in need (through the Kennington Association Secret Santa appeal) and to Vauxhall foodbank. £200 also went to Water Aid (which the government will double to £400 as part of a special scheme). A big thank you to the choir, Fever Pitch (above), who sang so beautifully. Over the past few years these carols evenings have now raised more than £6,000 for charity.
Dates for your diary:
- Our annual spring clean/rake-up/Community Freshview - Saturday 14 April 2018 9.30-12
Residents' supper club: next date Thursday 22 March 2018. Use the Contact Us form if you're not already on the supper club mailing list.
Date for our
Residents' summer party t.b.c. - early July 2018
Other activities
Keep Fit - Every Wednesday in term time 6.15-7.15pm at Archbishop Sumner School (Reedworth Street). All ages and abilities welcome to this fun class. £5 a session (concessions £3).
Vauxhall Foodbank - we are still regularly taking donations of tins and packets of food to this very worthwhile charity helping local families in need. Please buy an extra tin next time you are shopping and leave it in the bag in the bin store down the steps of 3 Cleaver Square. Alternatively, if you shop at the Kennington Lane Tesco they have a Foodbank box and will add 30% to donations.
Residents' Supper Club - a regular get together at a local restaurant. All residents welcome - it's a great way to meet your neighbours. Use the Contact Us form to get on the mailing list. (See next date in Dates above).
Join Us
If you're new to the area, welcome! We hope you find this website useful. Do get in touch with the Association by using our Contact Us form so we can say hello and put you on the email group list to be kept up to date with local news, events and activities.
Photo below: residents taking part in one of our previous Rake-Up/Community Freshview days in association with Lambeth Council.